You thought i was dead....gone...blogxtinct, but i've made a voldermort resurgence to avenge the nahsayers and bisbelivers in my meaning.
I am back baby! and ready to blog.
There is no way i can recap almost a whole month off from this blog but i'll try anyways.
After i left vancouver I came home to the stoke and had a few solid swims and runs before heading to Provincials in WAsa.
The resort that had cabins literally right on the start line had gone into receivership so that put a bummer on what was otherwise a good race.
We stayed in Kimberely at the North Star Motel and we watched the oilers beat the canes in game 3. Boy Don Cherry if there is one thing that i'll remember about the '06 playoffs apart from the oilers getting so close and then to have Ward and a prehistoric ape (canes captian) snatch the cup, it is DC's suits, WOW!
The race.......swim...most chaotic start i've ever had....the first bouy was too close and everyone was jammed into the first turn. swallowed too much water and got kicked in the kidneys. Came out slower than i wanted and had a mediocor transition.
Got on the bike and found myself in 3rd. Not for long though as Mike simpson came tearing by with disc wheel and all. Held the bleeding to a minimum on the bike and came into T2 in 7th.
The run felt horrible but in actually fact i was running pretty well. passed 2 and grabbed some coke at an aid station.
In the end i was 5th and 100$ in the back pocket. It was probably the hardest race ever for me...see photo below.
From then on I had my 24th birthday. Saw many friends at big bear and have been training steadily.
Dad swallowed a fly and got an infection, i had water in my ear for 5 days and felt like Kramer in that one episode and its finally starting to get warm.
One little sneaky thing i've been doing, well not that sneaky, is i've put in some sauna sessions. No not with the swedish swim team JP, but 1hr sessions at 40+ celsius and full humidity on the bike trainer. hopefully this will help with the heat at nationals i'm expecting.
speaking of those, i am heading out tomorrow. Doing a duathlon in kamloops on sunday then flying out on tuesday. Have a homestay hooked up down which will save a lot of cash.
I don't know how a whole week in the T.O will go. I can't stand the yuppies who come out of there to come to UBC let anyone going and staying in their natural habitat.
Will try to keep you posted on how things onfold there.
th-ht-th-th-thats all folks
Trust me...it is hurting right about now
The smurph himself made an anticipated appearence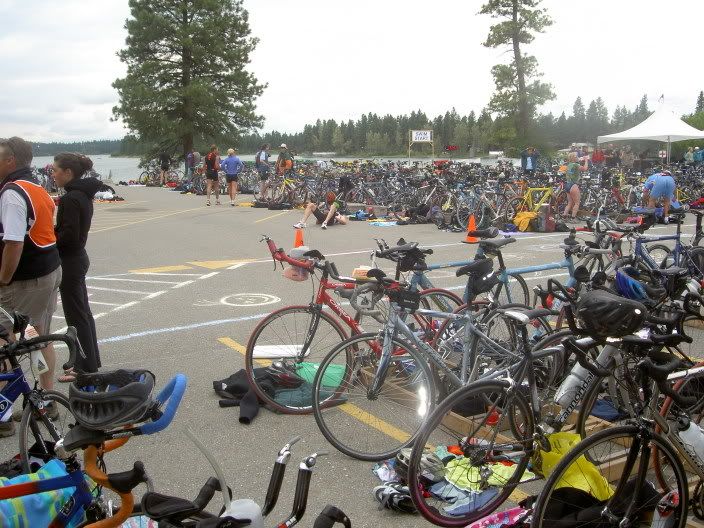 See what i mean about it hurting